The Buffalo Bills badly needed a relaxing win. Against a beleaguered New York Jets team, they got their wish. Buffalo won in front of its home fans 32-6, complete with a complementary performance and a few highlights for the end-of-year montage.
One such highlight came in the form of the league's longest receiving touchdown of the year.
In the third quarter, Bills quarterback Josh Allen delivered a flat-footed, side-arm strike to receiver Khalil Shakir—one of those throws that only he can make.
Shakir ran a seam against Cover 3, and Allen may have broken the sound barrier on the fastball he threw. He fit it in before Jets cornerback Sauce Gardner could make a play on the ball, and from there, it was a footrace to the end zone. Shakir isn't going to lose those too often.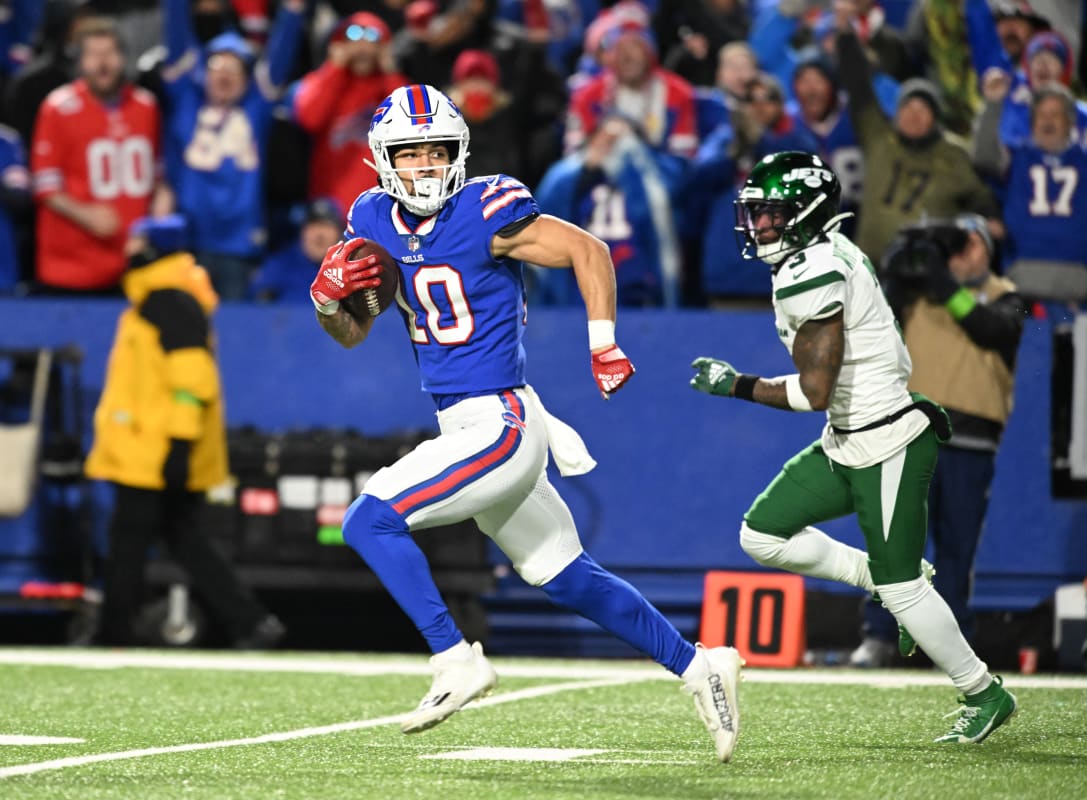 "Did I look slow or did I look fast?" Shakir joked. "Just caught it and started running, cut back because I feel like I was moving in slow motion, and then, shoot, ended up in the end zone."
Shakir was more than willing to give credit to Allen, who had a strong day in offensive coordinator Joe Brady's debut as Bills play caller. He completed 20-of-32 passes for 275 yards, three touchdowns, and an interception.
"I love Josh, what I did tonight is all him. Just his energy, how he loves the game, his passion towards us as players and dudes off the field, 17 is special. He's a special person."
The big day from the superstar quarterback helped fuel the offense, even without a productive outing for leading receiver Stefon Diggs. Diggs had just 27 yards on eight targets (four catches). Shakir, after the long grab, was unsurprisingly Buffalo's yardage leader on the day. He was targeted four times, catching three passes for 115 yards and the aforementioned score.
Related: Bills Bounce Back, Smother Jets in Crucial Win
That touchdown was the final six-point blow to put New York permanently in the rearview mirror. Buffalo would go on to win and re-establish itself as an AFC playoff contender.
"Coach McDermott says, 'Do your one-eleventh,' and I felt that tonight," Shakir said. "Just an awesome feeling."