The 2023 Pro Bowl rosters have been announced, and it's loaded with fantasy superstars. So, why not create a fantasy version of the NFL's all-star game?
I did just that…
Before we dive into the players who made my Fantasy Pro Bowl, let's take a look back at this tradition that started back in 1970. The coaches in that first ever Pro Bowl contest were John Madden of the Oakland Raiders and Dick Nolan of the San Francisco 49ers. The All-Star contest, which the NFC won, 27-6, had not one but two Most Valuable Players ... Packers linebacker Fred Carr and Cowboys defensive back Mel Renfro.
The game was played at the Los Angeles Memorial Coliseum, and each player from the winning team was awarded $2,000. The winning players from the 2023 Pro Bowl will be awarded $80,000, while the losers will take home a cool $75,000.
Not a bad day's work, huh?
Had fantasy football been prominent in 1970, the fantasy Pro Bowl team would have included players like John Brodie, Fran Tarkenton, Ron A. Johnson, MacArthur Lane, Gene Washington and Dick Gordon. Brodie led all quarterbacks with 2,941 passing yards and 208.5 fantasy points. To compare that to the current era, that would have been good enough to finish 18th at the position this past season.
The top fantasy running back, Johnson, finished with 1,514 scrimmage yards, 12 total touchdowns and 271.4 points. That would have earned him an RB7 finish in 2022. Washington, the top-scoring wide receiver, recorded 1,100 yards, 12 touchdowns and 235 fantasy points. He would have been the WR14 this season.
Times have changed, folks.
Now that we've taken a trip down memory lane, let's take a look at the best of the best in the here and the now -- the 2023 Fantasy Pro Bowl squad, according to me!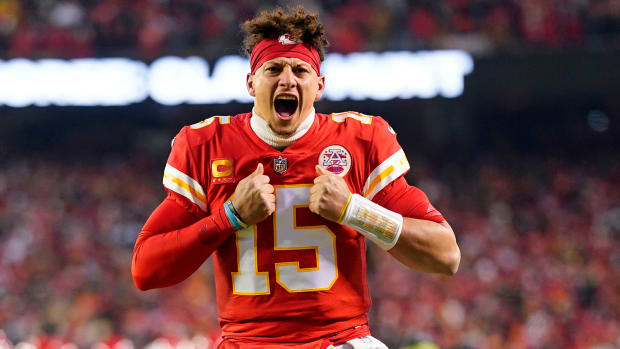 Quarterback
Patrick Mahomes, Kansas City Chiefs: Mahomes threw for 5,250 yards and had 45 total touchdowns, which was good for 417.4 fantasy points. That broke the previous single-season record for quarterbacks, which was 417.1 points … held by Mahomes. His passing yards total ranks fourth all time, and his 41 TD passes ties for 12th. More impressive, he did it all without his former best wideout, Tyreek Hill.
Runner up: Jalen Hurts, Philadelphia Eagles
Running Back
Austin Ekeler, Los Angeles Chargers: Ekeler finished as the No. 1 running back in fantasy football, posting 107 catches, 1,637 yards, 18 total touchdowns and 372.7 points. He has now finished in the top three among backs in two straight seasons, during which time he has averaged more than 21 fantasy points. Ekeler is also the lone running back to score more than 300 points in each of the last two years.
Runner up: Christian McCaffrey, Carolina Panthers/San Francisco 49ers
Wide Receivers
Justin Jefferson, Minnesota Vikings: Jefferson led all wide receivers in fantasy points with 368.7 points. His point totals have now increased in each of his three seasons in the NFL. The talented Jefferson has now scored more fantasy points than any other wideout in his first three NFL seasons with 973.3. He surpassed the previous record that was set by Randy Moss, who scored 914.6 points in his first three NFL seasons. Of course, Jefferson played in two more games than Moss.
Tyreek Hill, Miami Dolphins: Hill left Mahomes and the high-powered Chiefs offense for South Beach in the offseason, which made countless fantasy managers worried about his value. He went on to post career bests in catches, receiving yards and fantasy points catching passes from Tua Tagovailoa, Teddy Bridgewater and Skylar Thompson. Overall, Hill finished second among wideouts.
Runner up: Davante Adams, Las Vegas Raiders
Tight End
Travis Kelce, Kansas City Chiefs: Kelce finished as the No. 1 tight end, scoring 316.3 points. It's the sixth time in the last seven seasons that he's been the top scorer at the position. Kelce scored 100.9 more points than the next best tight end, T.J. Hockenson. That's the biggest gap between the No. 1 and No. 2 tight ends in at least the last 31 years. Even as he gets closer to his mid-30s, Kelce will be the lone tight end who'll be worth a top-15 overall selection in 2023 fantasy football drafts.
Runner up: T.J. Hockenson, Detroit Lions/Minnesota Vikings
Flex
Josh Jacobs, RB, Las Vegas Raiders: Jacobs finished the season with career bests in rushing yards and scrimmage yards and tied for a personal best with 12 touchdowns. His 1,653 rushing yards and 2,053 scrimmage yards led the league, and his 328.3 fantasy points bested his previous career high by nearly 100 points. Jacobs is slated to become a free agent, but he'll be a top-10 runner in 2023.
Runner up: Stefon Diggs, WR, Buffalo Bills
Kicker
Justin Tucker, Baltimore Ravens: Tucker finished with one more fantasy point this season than Daniel Carlson, which kept the latter from finishing as the top kicker for the third straight year. Tucker's 160 fantasy points is the most he's scored in a year since 2016, when he had 161 points. He also made 86% of his field goal attempts.
Runner up: Daniel Carlson, Las Vegas Raiders
Linebacker
Foyesade Oluokun, Jacksonville Jaguars: Oluokun was a tackle machine in his first season with the Jaguars, posting 184 total tackles and the most fantasy points from a linebacker. He also had a career-best 12 tackles for loss during the season.
Runner up: Nick Bolton, Kansas City Chiefs
Defensive Back
Jalen Pitre, Houston Texans: Pitre led all defensive backs in total tackles with 147, which is 22 more than the next best DB, teammate Jonathan Owens. The highest scoring defensive back, Pitre also had eight passes defensed and five interceptions.
Runner up: L'Jarius Sneed, Kansas City Chiefs
Defensive Line
Maxx Crosby, Las Vegas Raiders: Crosby was the best defensive lineman in fantasy football, posting 88 tackles, 12.5 sacks and four passes defensed. He also forced three fumbles and was second in quarterback hurries behind Nick Bosa.
Runner up: Nick Bosa, San Francisco 49ers
---
Michael Fabiano is an award-winning fantasy football analyst on Sports Illustrated and a member of the Fantasy Sports Writers Association (FSWA) Hall of Fame. Click here to read all his articles here on SI Fantasy. You can follow Michael on Twitter, Facebook, YouTube, and Instagram for your late breaking fantasy news and the best analysis in the business!